The Curators Collective (CC), founded in 2020, is a coalition of curators and participants from 52 national pavilions at the Venice Architecture Biennale 2021. They are engaging in an ongoing dialogue and exploration of collaborative possibilities within architecture exhibitions.
The CC Manifesto Group within the Curators Collective is interested in framing a collectively considered response to the complex problems that are challenging us. In the context of multiple crises upending life as we know it, it has become clear that questions and diversity, rather than answers and universalizing declarations, more truthfully reflect the uncertain times we are in. The questions collected by the curators have become the material that can be used, added to, curated, or constructed to generate other manifestos. In turn, these manifestos become new material to inspire yet other manifestos. This process will expand in the Evolving Manifesto to include questions added by the public to frame a larger set of concerns. The questions are not necessarily meant to be answered, but to reveal perspectives. Greater awareness of convergences of perspectives is a crucial step for collectively addressing the kinds of problems we are facing.
The following texts are an excerpt from the Curators Collective Manifesto Group Exhibition at the Venice Architecture Biennale in August 2021.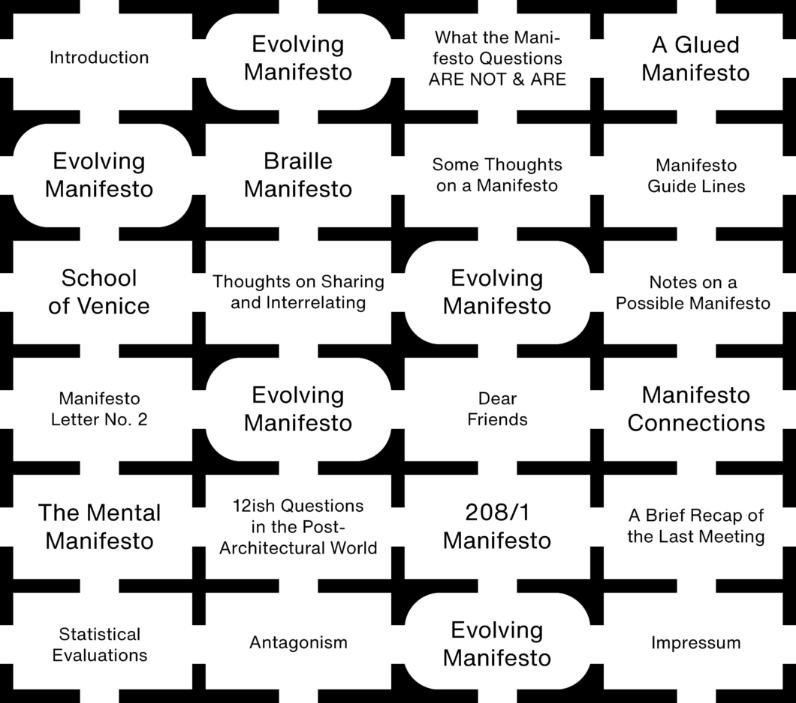 A Glued Manifesto by Ryul Song and Christian Schweitzer
What the Manifesto Questions ARE NOT & ARE by Annie Pedret
Some Thoughts on a Manifesto by Christian Schweitzer
208/1 Manifesto by Ryul Song
Manifesto Letter No. 2 by Christian Schweitzer
A Brief Recap of the Last Meeting / A Conversation between Wael Al Awar, Annie Pedret, and Christian Schweitzer
12ish Questions in the Post-Architectural World by Ryul Song and Christian Schweitzer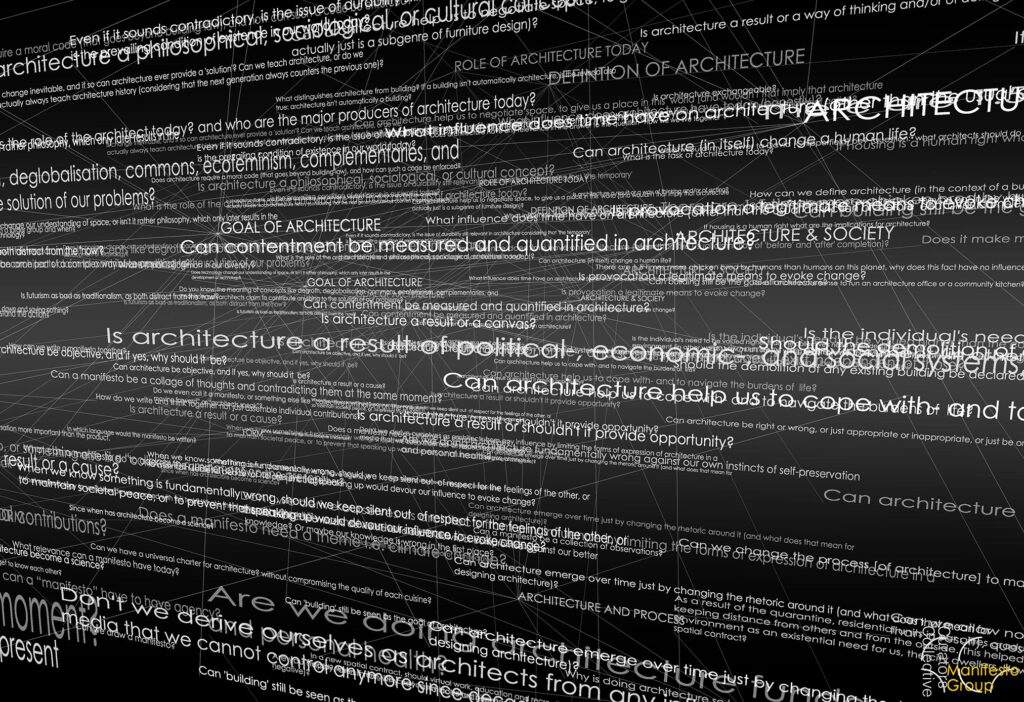 The Curators Collective Manifesto Group are
Wael Al Awar / Curator United Arab Emirates, Carlos Alberto Maciel / Curator Brazil, Maurizio Carta / Italy, Manuel Casiano / Peru, Jesus D'Alessandro / Dominican Republic, Felipe Ferrer / Curator Peru, Lidia Leon Cabral / Dominican Republic, Orisell Medina-Lagrange / Dominican Republic, Madehaa Merchant / Pakistan, Annie Pedret / Korea, Roberta Semeraro / Curator Dominican Republic, Christian Schweitzer / Korea, Ryul Song / Korea, Julia Vicioso / Dominican Republic
With additional contributions by
Svetlana Perovic / Curator Montenegro, Bruno Santa Cecilia / Curator Brazil